FREQUENTLY ASKED QUESTIONS
Yes, they are! Also a hairdryer. And our apartments come with fully equipped kitchens, including tea and coffee.
The check-in time is 15:00. If the room was not booked the night before, you can check in earliest when the respective reception is opening.
The check-out time in all locations is 11:00. Of course you can also store your luggage with us during opening hours in all 3 locations before check-in and after check-out.
Additionally, we offer the following upon request during opening hours:
Printing of boarding passes in the office/reception
Ordering a Taxi from our office/reception
Baby cot and/or high chair
Iron & ironing board
Please contact us in advance about arranging a check-in after office/reception hours.
A booking for an apartment and Hostel with the refundable rate can be canceled free of charge up to 15:00 on the day before arrival. For a cancellation on the day of arrival or a no show, we charge 100% of the reservation total.
Hotel rooms can be cancelled free of charge until 18:00 on the day of arrival.
In case of a later cancellation or a no-show, we charge 100% of the total costs.
Detailed information about our terms & conditions can be found here
Your accommodation is located in the inner city of Berlin. There is pay parking available on the street (Mo-Sa, 9-24:00; 1,-EUR/hour) or a parking garage nearby (12,-EUR/day).
For further parking spots and prices, please check https://en.parkopedia.com/
Guests arriving with a car will need an environmental sticker. Stickers can be issued by the vehicle registration office, technical certification organisations and authorised repair workshops. This applies to foreign vehicles as well. The vehicle registration documents must be presented in order to purchase a sticker. More information: www.umwelt-plakette.de/de/infos/informations-in-english.html
Unfortunately, we do not allow pets in our locations.
No.
Due to various reasons and issues with large groups in the past, OTA-Berlin can not be booked for parties of any kind. This includes all of our locations. Please note that we also reserve the right to ask for a security deposit for large groups, starting from 200€ per unit. We also refuse a check-in to groups that are loud or intoxicated on arrival.
For bookings with the refundable rate, payment is due on arrival and can be paid with cash, VISA, Mastercard, Maestro or American Express.
Bookings with the non-refundable rate will be charged at the time of booking to either a credit card or via an invoice that can be paid by bank transfer.
In most cases, the credit card number that is used for the reservation serves as a security deposit. However, in certain cases (groups larger than 6 people that are not a family), we will ask our guests for an additional 200€ either in cash or as a temporary reservation on a credit card. This deposit will be returned after the departure if there were no complications with the rented units.
The minimum age for checking in is 18 for hotel and hostel and 21 for all of our apartments.
The Hotel rooms are cleaned on a daily basis, inclusing a towel change. Linen will be changed after 3 nights.
For all other locations, we offer an optional cleaning service with linen/towel change for a fee, depending on the type of room and number of guests, please contact us at the reception for a detailed price list.
TO MAKE YOUR STAY AS PLEASANT AS POSSIBLE, PLEASE NOTE OUR RULES:
Please be as quiet as possible in your apartment, especially from 22:00 to 8:00. Parties, loud music or other loud behaviour will not be tolerated at any time. In the case of infractions, we reserve the right to immediately evict guests without refund.
All OTA locations are non-smoking. We ask you also not to smoke on the window or throw cigarette ends from the balcony/window. Guests failing to comply will be charged 150 EUR AND an additional night for cleaning the unit.
You are responsible for the apartment and its furnishings during your stay – you will be charged for damages. We will use the provided credit card.
Please do not leave any valuables in the rooms and double-lock the door. Make sure the key is not left in the lock inside, as this disables the lock. A locksmith will need to be called at your expense.
When leaving, please close all the windows and turn off all electrical devices (i.e. Lamps, fans, ovens). Please also turn off all taps.
The departure time is 11:00. Please leave all the keys in the mailbox labeled "Old Town Apartments" (found in the building entrance way).
Please take care of your keys. Replacement of lost keys cost 80€ per set. Also you will be charged possible additional costs for our service.
We are happy to be of assistance to you. However the misuse of our services or an unnecessary call-out to your apartment will incur a 20€ service fee per 15 minutes in addition to any extra costs. (eg. in the case of lost keys or noise complaints).
Extra cleaning costs are 20€ per hour when exceeding the standard cleaning time (1 hour for rooms, 2 hours for apartments).
Here's how to get to us: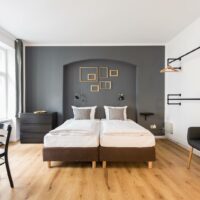 Schönhauser Allee 5
10119 Berlin
Office hours:
Monday – Sunday
9:00 – 17:00

U2/M8 - Station "Rosa Luxemburg Platz"
From Berlin Central Station

M8 towards Ahrensfelde to Rosa Luxemburg Platz
From Central Bus Station (ZOB)

U2 towards Pankow to Rosa Luxemburg Platz
From Berlin International Airport (BER)
RE7 / RB 14 to Alexanderplatz, then U2 to Rosa Luxemburg Platz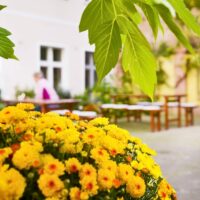 Greifswalder Straße 211
10405 Berlin
Reception hours:
Monday – Sunday
7:00 – 21:00
M4 - Station "Hufelandstr"

From Hauptbahnhof
M10 towards Warschauer Str until "Greifswalder Str/Danziger Str", change to M4 to get to Hufelandstr or walk 5 minutes.

From Central Bus Station (ZOB)
U2 in the direction of "Pankow" to Alexanderplatz, then M4 to Hufelandstr.

From BER
RE7 / RB 14 to Alexanderplatz, then M4 to Hufelandstr.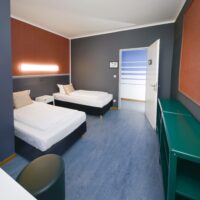 Pappelallee 21
10437 Berlin
Reception hours:
Monday – Sunday
10:00 – 18:00
U2 - Station "Eberswalder Str"
From Hauptbahnhof
M10 towards "Warschauer Str" to Eberswalder Str, then 5 minutes by foot.
Vom ZOB
U2 to Pankow until Eberswalder Str, then 5 minutes by foot.
Vom BER
RE7 / RB 14 to Alexanderplatz, then U2 to Eberswalder Str, then 5 minutes by foot.